STP/ECN Broker 4xcube was ESTABLISHED in 2018 by a company located in Rarotonga, Cook Islands. In spite of a new firm, 4xcube was established by a team who has more than 20 years of experience in different platforms. Starting with as min as $5 4xcube tries to provide minimum deposit for its clients, with live trading accounts.
Execution-only broker with no dealing desk (NDD) is available at 4xCube. This company has STP (Straight-Through Processing broker) model for their clients. Client orders are routed to a pool of 21 liquidity providers ensuring speedy executions without requotes. The broker accepts all types of traders and all trading strategies and systems.
According to 4xCube Limited's registration information – the broker is registered with ICA 12767/2018 in the Cook Islands. They have also registered under the Financial Supervisory Commission (FSC) with the license number MC03/2018.
Accepted Clients
According to the broker website – they does not offer its services to residents of certain jurisdictions such as USA, North Korea, Bosnia and Herzegovina, Ethiopia, Iraq, Syria, Uganda, Vanuatu and Yemen.
Trading Platforms
4xCube provides MT4 trading platform to their clients – it allows their users for unlimited access from both desktop and mobile devices. To download mobile application simply open your google play store or app store from iPhone and find MT4 app. Contact with 4xCube for configure details and make it running.
MT4 app in mobile version has simple user friendly interface for traders.
If you use MT4 app you can stop and start an order smoothly.
Drawing is available for technical analysis.
30+ technical indicators are available.
Live data are displayed on the app. Chars and quotes streaming is good for clients.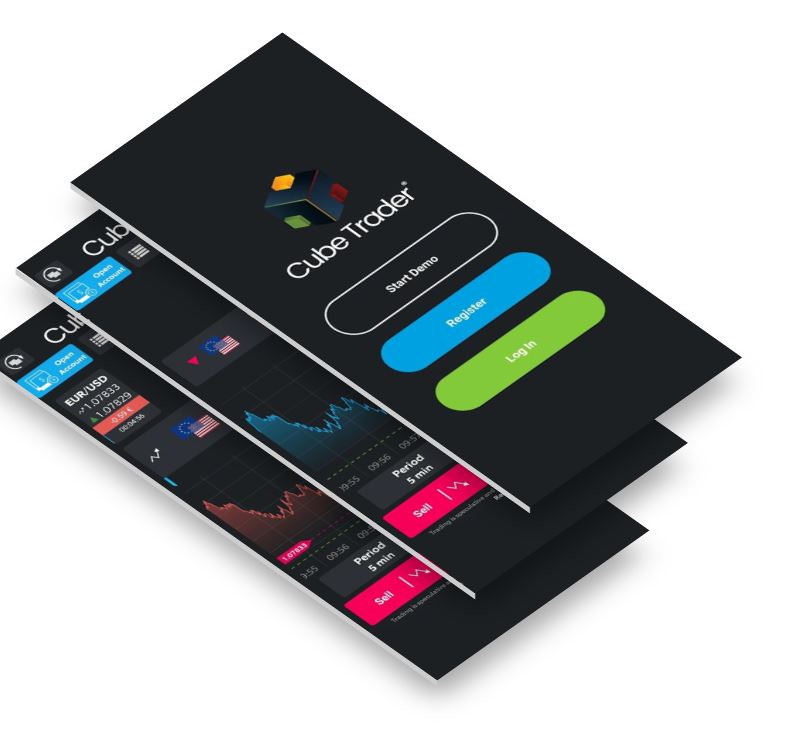 Cube Trader
Cube Trader is the brand name of 4xCube. According to their website.
CubeTrader prides itself in making trading easy and accessible. We constantly remind ourselves on the importance to provide our clients a wide choice of instruments in a clear and precise manner, 'keeping it simple' which would still satisfy the needs of the most meticulous traders.
One important thing is the application developed by the brokerage itself. It has lots of efforts to make it, no doubt.
Trading Instruments
4XCube has 48 forex currencies pairs, 11 indices, 2 metals, and 2 commodities and 1 cryptocurrency to trade in their platform. BTC (Bitcoin) is the only cryptocurrency they are currently offering.
Trading Accounts
The broker has simple 3 type of accounts for 3 different bunch of customer types.
Demo account
To learn practically about Forex demo accounts are really helpful. With demo account you can practice almost all FX currency pairs and other tradeable assets such as cryptos, commodities, metals and indices.
One important information you should learn about demo account is the psychological mindset is very different than live account. So as much as you pretend it as live account it will be good for you.
Standard account
The minimum deposit amount is 5 USD. Spread starts from 0.3 pips, the changing factors are floating spreads so no commissions will charged. This account type is widely used across all common brokerages. For starters this account type is suitable as min. deposit is a big chance for them. Before a deposit a client should get good experience with the broker spread fees.
Pro account
This account type is intended for traders with regular trading experience. The spread starts from 0.1 pips and least amount to deposit is $1,000. Commissions are charged at $3 per lot.
VIP account
This account is for professional traders/companies with access to a lot of trading capital. a dedicated account manager will be set for managing the client with extra cares. No commissions will be charged but the lowest account opening deposit amount is $25,000 and the spread starts from 0.2pips.
Auto Trading
The broker have an interesting feature for their traders. They have auto trading facility for batty smart people.
HokoCloud: easy-to-use, broker agnostic trading platform, that allows you to replicate trades in real time between your own MT4 accounts, or follow any public strategy of your choosing, with full control of your risk-return objectives.
ZuluTrade: enables you to copy trades of your chosen systems directly into your account
MT4: Take the guesswork and emotion out of trading by accessing thousands of trading strategies and signals from successful traders in real-time.
Deposits & Withdrawals Methods
Bank wire, Visa/MasterCard, Skrill (Earlier MoneyBookers) and Neteller are accepted as most common deposit method for their customers. Also PerfectMoney, UnionPay available for deposit and withdrawal purpose. Another payment methods available are - ADVANCED, Globepay, PayRetailers, Help2Pay, fasapay, Cryptocurrencies (BTC, ETH, DASH).
Deposit method may charge depending on the method you're using. Deposit fee up to 5% for WechatPay. For Neteller the fee is 3%, so as skrill.
You need to read their charges in their website to learn more about the cost.
Customer Support at 4xCube
The customer support services are available from Monday-Friday 24/5 and on Saturday from 0:00 to 7:00 (GMT+2). Besides English, Customer support managers speaks in different languages such as Arabic, Vietnamese, Portuguese(Brazil). They can be reached using the following methods:
Support Email: [email protected]
Toll free number: +55 800 878 6442, Client support +44 203 514 9306.
Live chat from their website.
Contact form submission trough the website.
Contact via Social Media
Trust Level & Expertise on Dealing with customers
The broker is originated in 2018, this is a big impact in consideration of trust issues. Also the broker is not so well known regulation authority. But if you look into their operations and trading methodology for their clients as well as their own Cube Trader platform, you will acknowledge that the broker has a safe platform for traders.
The broker has staff with experiences as much as 10, 20 years of customer dealing. The broker may not old but the management are experienced from well-known brokers who have earned their reputation already in the market.
As a matter of fact - while registration with FSC it comes more trust about consumer fund issues, the company has its rules, security firms and financially strong.
Final Thoughts about 4xCube
Though 4XCube is regulated with a not-so-well-known regulatory body, it is safe and secure as it is regulated with the FSC.
This financial institution has its rules & regulations, security firms and financially it is competitive. According to 4XCube review, it is owned and operated by 4XCube Limited.
While following the website of 4XCube, this company is licensed and regulated under the Financial Supervisory Commission (FSC) in the Cook Islands. In the South Pacific, this island located with political links to New Zealand. New Zeeland is a well-known country as highly administrative from governments.
Just like CySEC and FCA, the FSC has capital adequacy requirements for Forex brokers and obliges them to report their transactions to the regulatory authority.
The FSC carries out regular audits of registered companies, which includes the entities under the Money-changing and Remittance Businesses Act, for instance, 4XCube. Compliance with KYC is also monitored with AML regulations.